November 22, 2021 – Reported Covid cases in the United States started to rise early in November, after falling the previous two months.  Fortunately, the increase has been relatively modest – only 7% thus far.  Contrast this with the 58% decline in new cases reported from September 2 to November 3.
The latest expert forecasts now predict new infections will plateau beginning as early as this week. This plateau could continue for about two months before cases begin to taper off. Fortunately, these estimated infections fall short of levels posted through most of September.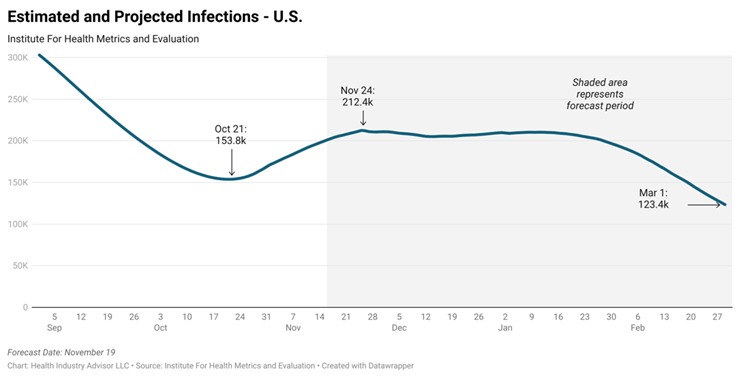 Michigan's experience is symbolic of the current rise in Covid cases. This state mostly avoided the worst of the Delta surge (July-August). However, Covid-19 reminds us that "we can run, but we cannot hide." Indeed, close examination of state-by-state case rates shows that, like Michigan, states that side-stepped Delta's wrath earlier are driving the current uptick in new cases. Conversely, those states pummeled during the Delta peak are now seeing relatively low new case rates.
Globally, Europe is struggling mightily with the virus. In many countries, rates are twice as high as the U.S. ever posted. Even now, rates in Eastern Europe exceed the United States' current rate by 2-to-7 times.
Rising case rates in the United States strain the healthcare system. Hospitals in Arizona, Colorado, Michigan, and New Mexico face the most significant challenges at this point, with Covid patients occupying nearly one-in-three beds in these states. Nationally, the rate is less than one of every seven beds.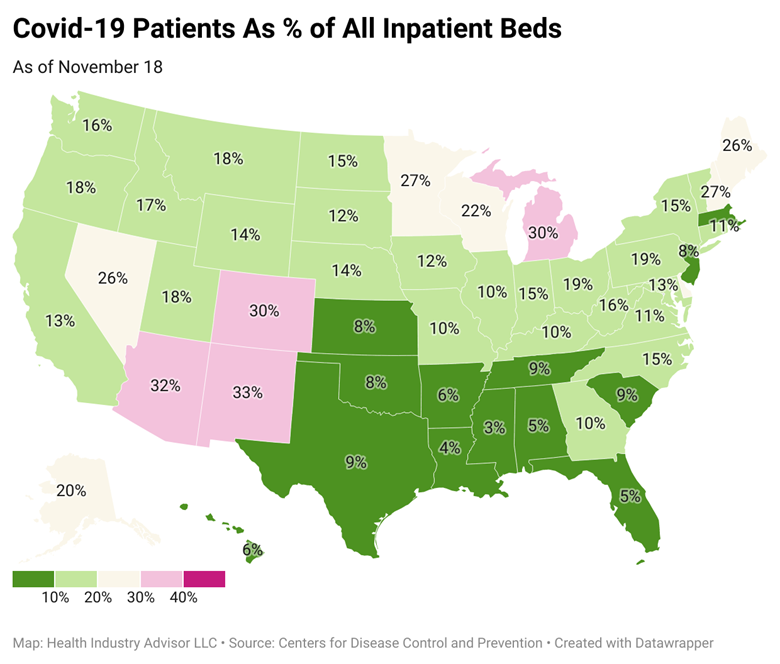 While these occupancy rates nationally remain lower than in early September (and only a third of their January peak), other factors exacerbate the challenges. Caregivers have been exhausted from their efforts in treating Covid19 patients for the past twenty months. Staffing often falls short of required levels, and the pent-up demand for non-Covid healthcare services further stresses the system.
Now we face the anticipated peak flu season. After experiencing the mildest season in fifteen years last winter, this season poses heightened challenges. Already, flu visits are running higher than all but two of the past fifteen seasons. The typical peak of the season is still weeks away.
Vaccines serve as a vital part of our arsenal in combating Covid 19. Over the weekend, the FDA approved booster vaccines for all adults. This approval should clear up confusing guidance about who was eligible and under what circumstances.
Dr. Anthony Fauci also hinted that health officials could soon declare that boosters would be required to be considered fully vaccinated.
Senior citizens have taken to the vaccine effort with a vengeance. According to CDC data, 99.9% of seniors have received at least one dose. Fifty percent have received two shots (but no booster yet), and another 35% have received a booster shot already.
Vaccines were approved recently for children aged 5 to 11 years old. Already one-in-ten of these kids have received their first dose.
On the other hand, teenagers resist the vaccines more so than any other age group. Half of these teens are un- or under-vaccinated.
Contributing writer:
Mark A. Van Sumeren, strategic advisor, Medical Devices & Integrated Delivery Networks
Health Industry Advisor LLC, provides a regular report on COVID-19 numbers for the health care industry.
For more information, or to sign up for the report, contact Mark at Mark.VanSumeren@HealthIndustryAdvisor.com; or visit www.HealthIndustryAdvisor.com.